This training/challenge is for educational and informational purposes only. These materials do not constitute a recommendation to engage in any particular securities transactions.
Investment products are: Not FDIC insured | Not guaranteed by the bank | May lose value
Week 1: Stock Basics
This week's goal is to introduce you to stocks and help you build a foundation for investing in the stock market. This is a great place to start if you are a beginning investor or would like a refresher if you have already started on your investing journey.

Watch Lists
A watch list helps you to keep an eye on stocks you wish to own or may already have in your portfolio. Creating a watch list is one of the first things you should do before purchasing stock. You can have as few as one stock on your list or as many as 25, if not more.
Day 3: Watch What? Watch Lists
Creating watch lists can be interesting and you may want to have one list or multiple lists that are organized the way you want. You can organize them by industries or by stock price – it's all up to you. You can even add mutual funds from your 401k that you may want to keep tabs on.
With today's technology, many smart phones allow you the option to set up a watch list, where you can take a peek at stocks on your list while on the go.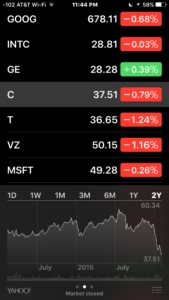 Setting Alerts – As an investor, it is good practice to set alerts for stocks on your watch list. By doing so, you will receive notification when a stock has met certain criteria. You can select from a variety of alerts – investment, account, and market alerts. For the purposes of this challenge, we will focus on investment alerts. Investment alerts primarily focus on movements with a company's stock price. You can set an alert to be notified if the stock price rises above a certain amount or if the stock price drops below a certain amount.
Today's Investing Activity:
PART I – Create a watch list.
If you have a brokerage or IRA account, then download the phone app for your institution. If you do not have a brokerage or IRA account, then you can download the Yahoo! Finance app for free to complete today's activity.
PART II – Set an investment alert.
If you have a brokerage or IRA account, then set price alerts within your account or the app. If you do not have an account established, you may use the following apps:
EyeOnMyStocks (iPhone)
Stocks Pro App: Stock Tracker
ADVANCED: Create at least 3 watchlists. 1) Stocks you currently own, 2) A watch list for a particular category or trend (i.e., Financial, Healthcare, Vanguard ETFs, etc.), and 3) Stocks below a certain price point (i.e. Stocks below $10, Stocks below $100, etc.)
Step One:
Create a watch list. You can start with the three stocks from the previous day's activity.
Step Two:
Add Amazon.com, Inc. (AMZN) to your watch list
Set an Investment Alert for AMZN for when the Price Rises Above $1275.00
Step Three:
Screenshot your watch list and share it in The Stocks & Stilettos Society or in the comments below
Today's investing activity focuses on preparation and organization. This preparation comes in the form of a watch list and helps you to get in position to purchase stock when the time is right for you. Setting alerts allow you to be notified in order to not become consumed with constantly watching the market or a company's stock price. Getting organized helps to alleviate the feeling of becoming overwhelmed and reduces the fear that can come with investing in the stock market for some women.
Tomorrow: Day 4 – Earning Interest: Compounding
Follow me here:
Instagram: @stocksandstilettos
Facebook: @stocksandstilettos
Twitter: @stocknstiletto
Group: bit.ly/stocksandstilettos
Happy Investing!

Cassandra